taste
Wonder why half the stuff we make is usually sold out and we have year-long waiting lists for the small batch delights we make? Plain and simple. All our products are unlike anything you have ever tasted. No other company comes even close to our finesse. We live in a world of idealism and supreme perfection no matter the time or cost involved. We do this to feel at peace and to satisfy our discerning customers by giving them the best there is.
Whether it is our Blenheim apricot jam, our Fukushu kumquat marmalade, our Mariposa or Elephant Heart plum jams, our bbq sauce - everything is made by hand by the two of us in small batches using the best ingredients we find either locally from small farmers or from the best international sources. Before we sell anything we make sure that it passes our extremely critical taste test. If it doesn't taste amazing - we won't sell it.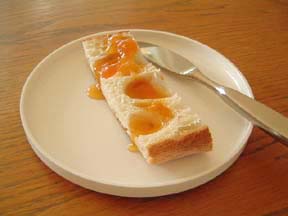 setting standards
With a background of over 40 years experimenting in the kitchen we have created many revolutionary standards and trends just by being ourselves:
We have popularized using freshly- picked, local, single variety fruit not favored by large companies who rely on mass-produced fruits sprayed with wax and stored in big refrigerators for months that have no flavor. We deal directly with the same farms year after year - driving to them to pick up the fruit or having them deliver it to us at the ripeness we require.
We are the first company to label our jams with the variety of fruit used. Each type of fruit has hundreds of varieties and they all taste different. We have spent years tasting different varieties and have picked those that we think taste best. If you see a jam that says 'apricot' or 'strawberry' and it doesn't say what variety it is - we suggest you run as fast as you can since that means they use the cheapest, tasteless variety.
We were the first company to make jam with no pectin or lemon juice in it. These two ingredients mask the flavors of the fruit. Our jam is more juicy and runny like the fresh fruit it is made from and not thick like peanut butter like other jams loaded with pectin.
We do not use plastic bins, pitchers, equipment etc. to make jam like some other local companies. Plastic is toxic with high heat and releases small particles that have been associated with heath risks. While it costs more we use the highly propriatary Waukesha Foundry WM88 alloy for food contact surfaces. (A piece the size of your fist costs around $2000), along with 316L stainless steel for secondary contact. These materials are the industry standard for their anti-corrosion and sanitary properties.
We are the first company that approached jam making like fine cuisine and utilize trace spices in a few products having spent years experimenting with combinations and processes to accentuate key flavors in fruit. So light a touch have we yielded that people never notice. In lesser hands following our lead, this approach has led to a trend that beats you over the head with powerful combinations that mask the fruit with random, unappetizing combinations such as something like blood orange-chestnut honey marmelade with sage. Eww that sounds gross!
We have revealed the dirty secret of jam making and how 99 percent of jam being sold is made from frozen fruit. Companies that make jam all year must rely on frozen fruit since the picking and storage of fresh fruit is such a small window of time each year. By using frozen fruit they can make the same flavor all year. From a production and economic standpoint it makes sense, but once fruit is frozen the flavor changes, as well as the consistency. Pectin is required to thicken it since individual cells in fruit when frozen explode making it a liquidly mess. Lots of sugar also masks inferior flavor of fruit which is usually mass grown varieties with little flavor. When you see a jam that costs $5 it simply has to be made with frozen fruit of the most flavorless variety.
We have popularized minimalist, almost generic packaging of food products and have received world-wide praise from design professionals and publications who appreciate our less is more approach to flavor and package.
We were the first nationally distributed company to use only recyclable or biodegradable packaging.
We started a trend now popular by elevating utilitarian Kraft brown paper into beautiful, desirable packaging. This came out of necessity when we made our labels from grocery bags run through our home computer printer. And the circle cut out? Well it was with an Xacto knife and a quarter.
We don't out source manufacture of our products like most companies who rely on co-packers using minimum wage workers to do everything for them, nor do we delegate to underlings to do the work. The two of us make everything all ourselves in a custom made, FDA and organically certified kitchen we built with our life savings so we can deliver to you the very best we can do. Each jar of jam, caramel sauce or bbq sauce was made by us, labeled by us and packed/shipped by us.
This is a two person operation where everything is done in house. From recipe development to cooking to all graphic/web design to our hand delivering products to local customers - this is a company that runs with every fiber of ourselves woven into it.